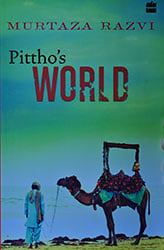 Image source: Jang.com.pk
Book: Pittho's World
Author: Murtaza Razvi
Publisher: Harper Collins
Genre: Fiction
Pages: 204
Price: Rs 299
Rating: 3.5 out of 5
Review: 'Pittho's World' has been penned by the late Pakistan journalist Murtaza Razvi. It is a compilation of stories which are inter-linked as the narrator Sheikhu recounts anecdotes from his growing-up years before his ladylove Rani every night.
The book is a fascinating take on the dichotomy of society; dogmatic at one point and liberal at the other, where a majority of humanity is prejudiced but with a few daring odd ones out poking their heads from amidst the cacophony.
One can say that the book is satirical since it pokes sweetly at the sensitive nerve points of Pakistani society, but in a way that the author cannot be dubbed a blasphemer. The narrator Sheikhu goes into a rhapsody as he strings snippets from the diverse characters in his family. If his parents and uncles were God-fearing and conservative, his Apa was the anomaly. She was outspoken, uncouth and even outright vitriolic when it came to speaking her mind. Then there was the old hag called Aunt Pittho who would occasionally storm into their house and stomp all over their lives. It was a mad, mad family with each character epitomising a facet of the Pakistani society.
The unique style of story-telling is also a winner and Razvi's usage of words and vocabulary is befitting to the tale.
Though the book is a work of fiction, it is a window to the real uncensored side of the Pakistani society as it transforms itself over the years.
The book, however, takes a bit of time before sucking you in. If you are looking for something which is a page-turner right from page one, this book may not be for you. But if you have the patience of a compulsive reader and the hunger of a bibliophile, you will manage to start, sail through and reach the other end. And at the end of your odyssey, you will let out a sigh; the characteristic sigh of a bookworm who has just read a good book.