So, the latest news from my side is that Srishti Publishers (which leapt to prominence after the runaway success of 'I too had a love story) has rejected my proposal for a novel based on around two hundred "55 word stories".
I emailed them the synopsis of my idea and 8 sample stories (all of them are presently published on this blog- their titles being 'Clouded', 'The Smell', 'The Hand', 'The White Pearl', 'I hate teas and coffees', 'The first prayer of my life', 'The guava tree' and 'The black-n-white photo').
I had received extremely encouraging comments from fellow bloggers.
Saru had said "You truly rock this genre. Haven't read anyone as good as you."
MySay had recently commented, "You are good. No wonder they call you the 'King of 55ers'. "
But this is what Srishti Publishers had to say in its email which I gloomily read and reread and re-reread last evening:
We have gone through your synopsis and sample work meticulously. Unfortunately it doesn't, at present, fit into our publishing schedule. We wish you all the best with your current book and would look forward to work with you for some other project in the future.
Thanks for your interest and faith in Srishti.
Editorial, Srishti Publishers and Distributors, New Delhi"
This is the latest rejection in a series of rejections inflicted over my poor, hapless soul over the last month. :'(
I recently failed to make it to the HarperCollins' list of 10 winners selected from that 'Get Published' contest (run by IndiBlogger) and failure to win that contest is akin to a rejection. Isn't it?
Do I give up or do I continue
My thoughts threaten to rust
Frustrated, despondent, my soul is kindled in rage
Yet my heart tells me, 'You are not to quit'
Fire your words with passion, arm your writing with wit
Persevere, get better, learn more and be brave
Life is about lessons, you graduate in your grave
~Ritesh Agarwal, a would-be author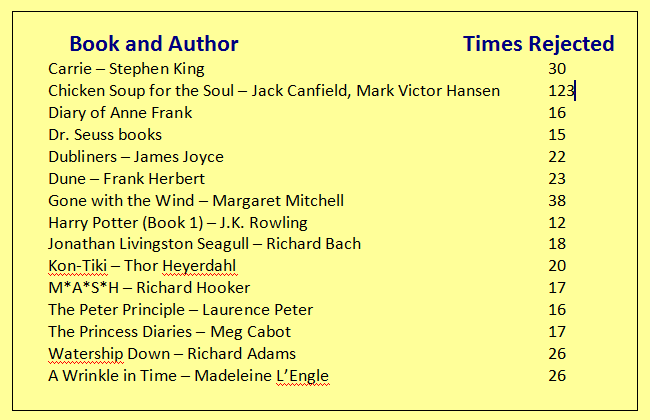 Image Sources: Google Images