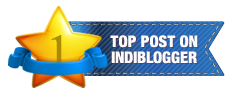 Firstly, let me make it absolutely clear that I am in complete love with this forum and the entire team of IndiBlogger. The near 3-year association which I have enjoyed with IndiBlogger and with the fellow co-bloggers has helped me grow as a writer and has lifted me out of my gloomy personal malaise on several occasions. So much so that, I consider everybody out here as a part of my extended family and an essential ingredient of my social life.
So, it is with a sincere filial concern that I pen this letter to bring a vital point to your notice. One of the major points of discussion in my recent rendezvous with some fellow bloggers was the stark decline of IndiBlogger. Prima facie, this blogging forum has grown over the years and is the undisputable king of blogging networks in India. However, of late, it has permitted itself to get corporatized. It is an act which may have strengthened and cemented the organization's hold as a powerhouse entity, but it has eroded the element of personal touch for which it became so beloved in the first place.
This is evident from a chain of trifle events. The responses to complaints/requests are not quick anymore, but have got more languid with that element of corporate formality kicking in. The prizes and hampers are not being dispatched immediately and there is a lapse on the part of IndiBlogger to give out a personal intimation to bloggers about the same. As far as winnings are concerned, there is this shadow of uncertainty in every blogger's mind. We all know that the hampers shall arrive, but nobody knows when exactly.
Some fellow bloggers also pointed out how the threads and chats are being dominated by just a few popular faces. This is in stark contrast to the bygone era when the involvement in such threads was much more universal.
Then there is the 'book review' section where the efficacy of the team has got compromised. A number of bloggers had applied to review certain books. But they were not intimated about whether or not they had been chosen to review the book. Even after several weeks, the particular segment says, 'You have applied to review this book', with no hint whatsoever as to whether the application still holds or has it got expired.
One of the major blunders (I'm using the word 'blunder' for lack of a better word) made by IndiBlogger was the way in which the Harper Collins' 'Get Published' contest was handled. The hushed announcement of winners, the absence of transparency and the pruning down of winners from the promised 25 to just 10 irked nearly all the participants. Again, it was a sign that IndiBlogger was allowing the corporate giants to dictate the proceedings. This is certainly not in congruity with the motto and objective of IndiBlogger which, as such, is to promote blogging and to nourish the amateur (and unpublished) writers.
So, when IndiBlogger recently announced its IBL award thingy, several bloggers remained unenthusiastic about the program for they felt (may be wrongly so) that the awards may be governed by the popularity of bloggers, and not necessarily on the merit factor.
Overall, though IndiBlogger has been going great guns, it is becoming more of a corporate guardian than the personal friend it once was. Here I wish and hope that you will see to this matter and ensure that we have that good, old friend back with us.
Yours faithfully (and always so)